Why Choose Us:
We are an Asset-based company who knows Exactly how to structure lending deals that get rejected by other Hard Money Lenders.
We offer our expertise to ensure profitability.
Please visit our Website for more information:
Peak Private Lending
All projects must be 60-70% Loan To Value
Our Lending Program:
No Monthly Payments
No Credit Checks
No Bank Statements
No Personal Guarantees
JV Opportunities
100% Financing Program
*To qualify for our 100% Financing Program Project must be 60-65% LTV.
Criteria:
i. Investor Must Fill Out Full Loan Application
ii. Send property photos
iii. Thorough Scope of Work
iv. Comparable! Comps
v. 60-70% LTV
vi. Not Flood Zone Area
vii. No Fire Damage
viii. No Structural Problems
ix. Not on a Main Street or Commercial Area
x. No Extreme Rural Area
xi. No Leaking Underground Oil Tank
xii. No Funky house or Neighborhood.
Check out our Private Lender Players Club:
To all Real Estate Investors beginners or seasoned who want to get more information on how to get financing for your deals as well as how to structure your deal for fast financing. We have created a meeting where investors can bring deals to get funding from one of NJ's Premier Direct Private Lender in the industry over the past 14 years by Glen Gallucci. Our exclusive members will have direct access to Glen and his Team every month. Please click the link for more information about our meeting. https://www.meetup.com/Peak-Private-Lending-Players-Club/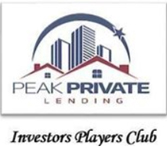 Peak Private Lender Players Club
A club started to help beginner and seasoned investors on how to get lending on their deals and training on how to find good deal. We are active investors and understand the procedure to getting a great profitable deal and know how to present a proper application to any lender for easy funding. This exclusive clubs gives members the advantage to present themselves in the most professional way.